Regular price
Rs2,200.00 NPR
Regular price
Rs2,450.00 NPR
Sale price
Rs2,200.00 NPR
Unit price
per
Sale
Sold out
Solution to Eliminate Acne, Dullness and Signs of Aging

 
Features of The Ordinary aha 30% + bha 2%
The Ordinary AHA 30% + BHA 2% is a powerful exfoliating solution.

It combines the benefits of alpha hydroxy acids (AHAs) and beta hydroxy acids (BHAs).
Formulated to target multiple skin concerns, including uneven texture, dullness, acne, and signs of aging.
Penetrate deep into pores to remove excess sebum and debris.
Refines skin texture, reduces the appearance of fine lines and wrinkles, and minimizes pores.
Helps improve overall skin clarity and brightness.
Cleanses and unclogs pores, reducing the appearance of blackheads and whiteheads.
Promotes the renewal of skin cells, revealing fresher and more radiant skin.
How to use it ?
Cleanse your face: Start by cleansing your face thoroughly using a gentle cleanser suitable for your skin type. 
Patch test: If you're new to using AHAs or BHAs, it's recommended to perform a patch test. 
Apply the exfoliating solution: In the evening, after cleansing, take a small amount of The Ordinary AHA 30% + BHA 2% onto a cotton pad or your fingertips. Gently sweep the product across your face and neck, avoiding the eye area. 
Avoid sun exposure: It's crucial to use this product in your evening skincare routine and to apply sunscreen during the day to protect your skin from harmful UV rays.
Moisturize: Follow up with a moisturizer suitable for your skin type to hydrate and nourish your skin. This step helps replenish moisture and maintain a healthy skin barrier.
Regular use and monitoring: Consistency is key when using any skincare product. Incorporate The Ordinary AHA 30% + BHA 2% into your routine regularly and observe how your skin responds.
Share
View full details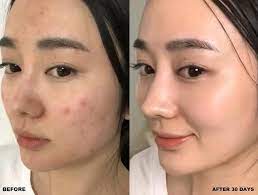 price aansar ko result aayo
so, 5/5 laggyo
worked so well thanks bro